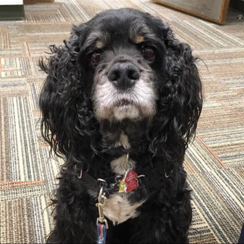 View Calendar
May 15, 2023 5:00 pm - 7:00 pm
Daniel the Cocker Spaniel is back!  Kids are invited to read to our furry friend Danny in the Children's Room at Weaver on Monday,  May 15th, 5-7pm.
Listening to kids read is one of Danny's favorite activities! Parents, bring your child for stress-free reading practice.
Studies have found that reading aloud to dogs improved children's attitudes toward books and increased their confidence. Dogs, relaxed and nonjudgmental, seem to help even struggling readers enjoy a book.
Drop-ins encouraged. Beginner readers welcome!