Recommendations and Reviews
Looking for your next great read? Through collaboration with students from East Providence and URI we have created an ever-changing list of reviews and recommendations to help you find your next book! Each review has been submitted by a student for your consideration. Enjoy!
---

Submitted by: Jordyn Smith, URI December 2021
Darius Kellner is American. He is also Persian. But to him, Persian feels less like a personal identity and more like a standard that he's constantly falling short of. As if he doesn't have enough to deal with (clinical depression, a strained and confusing relationship with his father, and constant bullying), Darius and his family are taking a trip to Iran to visit his grandparents for the first time.
Despite being raised by a Persian parent and a white American parent, Darius doesn't ever quite believe that he is enough of either. He is not Persian enough to fit in with his family in Iran, but he's also not white enough to blend in at his school in Portland, Oregon. He can't seem to relate to his father, who he calls the Übermensch, and his depression sometimes makes it difficult to relate to anyone at all. While in Iran, though, Darius meets Sohrab and begins to understand what having a true friend is like. He learns to navigate the different versions of himself: what others think he should be, what he thinks he should be, and what he really is. He even starts to accept other things he's learning about himself, like being attracted to boys. Nothing about what Darius is is wrong, but the journey to this realization is rocky. Self-discovery and self-acceptance often go hand in hand.
Additional Resources:
This is a great book for its diversity, storytelling, and characterizations. It is also the first book in a series, so if you enjoy this, keep an eye out for Darius the Great Deserves Better.
Author Adib Khorram's website: https://adibkhorram.com/darius
Author talk at the First Year Experience Conference in Washington, D.C.: https://www.youtube.com/watch?v=FmuX3yqn5Us
---
---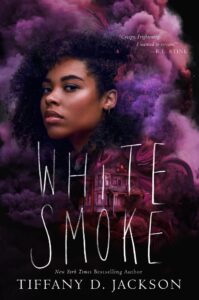 Review of: White Smoke by Tiffany D. Jackson
Submitted by: Alyssa Connolly , URI December 2021
Do you enjoy things that go bump in the night?
Marigold and her blended family have just moved from sunny California to the Midwest for her mom's new job as an artist in residency. A perk of this new job is a free, newly renovated historic home, but Mari immediately notices their house is the only one on their street that isn't completely run-down. That's just the first of many strange things that start to bug Mari. Shadows appear under doorways, horrible smells that come from the locked basement at night, and her annoying younger stepsister, Piper, says she's made a new friend who lives inside the house, and they want Mari GONE.
The promised haunted house aspect immediately grabbed my attention and the numerous other plot points kept me reading. Things like a mysterious incident that happened to Mari back in California that is revealed through little breadcrumbs that eventually all piece themselves together, or the fact that within Mari's entire high school there are only 7 boys within the student body… Suspicious. My only real knock on the book is that sometimes it felt like the storyline was jumping around too much.
If you enjoy reading books with mystery and suspense, this is the one for you!     4.5/5 
Additional Resources:
Author Website: Tiffany D. Jackson
Epic Reads YouTube Link: Tiffany Jackson Shares Three Secrets About White Smoke
---
---

Submitted by: Christina Vieira, EP Student September 2022
Over the course of three months, Lila Reyes has lost integral people in her life — her best friend, her boyfriend, and her Abuela. Lila, who is Cuban, cherishes her culture and her family bakery by baking along with cooking. Visually completely devastated, her family decides to send Lila to have a new start… in London; Lila finds the sudden change in environment horrifying and gruesome: the change in cuisine, absurd deserts, and lack of Latinx individuals. Though dealing with this difficult change, Lila learns, through new friends and an interesting tea shop boy, that change can be uncomfortable but ultimately better even if not expected.
The themes throughout are presented lightly through everyday occurrences, interesting acquaintances, and humbling lessons that test Lila's diligence. As Lila becomes more comfortable with her environment, she starts to envision new possibilities surpassing her comfort zone, and with that, growth that reconciles her past relationships and the ability to cope with her Abuela's death– through tea and the opportunity of tomorrow.
Additional Resources:
---
---