TAKE A PEEK AT WHAT'S NEW!
Recommendations and Reviews
Looking for your next great read?
Check out the 2024 RIMSBA & RITBA nominees
OR
keep scrolling and take a peek at our book review section!
Nominees
---
RITBA 2024 Nomination Poster (8.5 × 11 in)

_RIMSBA 2024 Nominees (1)

---
Reviews
Through collaboration with students from East Providence and URI we have created an ever-changing list of reviews and recommendations to help you find your next book! Each review has been submitted by a student for your consideration.
Enjoy!

Review of: Message Not Found by Dante Medema
Submitted by:
Kelly Voigt

, URI December 2022

Grief can make you question everything, but if you're not ready to hear the answer, don't ask the question.

Bailey's best friend Vanessa has Main Character energy. However, real life isn't like books, and Vanessa's life was cut off in the middle of a sentence. After abruptly and inexplicably leaving Bailey's house one night during a snowstorm, Vanessa's car veered off a cliff and Bailey never got to say goodbye. Grief turns Bailey inside out and she becomes obsessed with Vanessa's death: why was Vanessa so far from home? Where was she going? What if Bailey insisted she stay?

When the unknowing gets too bad, Bailey makes a decision. She feeds her entire text thread with Vanessa into an AI bot and uses that to pretend to text with her. At first, it feels like she has her best friend back. But when the bot starts hinting at a secret, something Vanessa kept from her, Bailey is determined to find out what it is. The more data she feeds into the bot, the clearer it becomes: Vanessa was keeping a secret from Bailey, and that secret may have caused her death. 

Perfect for fans of E. Lockhart's We Were Liars, this mystery/thriller is an emotionally complex slow-burn. Tangled up in her own grief, Bailey doesn't recognize – or chooses to ignore – the dangers of AI and manages to forget that if you're not ready to hear the answer, don't ask the question. 

Additional Resources:

Related links:
Reviewer bio:
Kelly Voigt (she/her) is a school librarian in Michigan, and an enthusiastic reader of YA and middle-grade fiction. When she isn't listening to podcasts about true crime, you can usually find her doing the New York Times crossword puzzle or looking at videos of red pandas on the internet.
---
---
Review of: I Wish You All the Best by Mason Deaver

Submitted by: Kaitlyn Durbano , URI December 2021
My Review: When Ben comes out to their parents as being nonbinary, they are immediately kicked out and forced to live with their sister, Hannah. As they spend their final months of senior year in a new high school, Ben begins to develop a friendship with a charming and charismatic boy named Nathan. Afraid of being rejected for their identity again, Ben keeps their true gender a secret from Nathan, which gets harder to do as Ben begins to develop romantic feelings for him.
The book is a fast-paced tale that would interest readers who are struggling with self-identification and anxiety, which are topics I believe the author handled perfectly. Ben's story is a powerful message: although not everyone is going to accept LGBTQ+ youth for who they are, they have the right to be their true self and the right to cut toxic people out of their lives. The coming out process is not as easy as many YA books express it to be, and I'm glad this book had the guts to be realistic. Reading I Wish You All the Best felt like going to a therapy session: emotional at the start and comforting by the end. I highly recommend it!
Author's Website: This section of Mason Deaver's website talks about I Wish You All the Best
Author Interview: YouTube Channel, PerpetualPages, interviews Mason Deaver and talks about I Wish You All the Best
---
---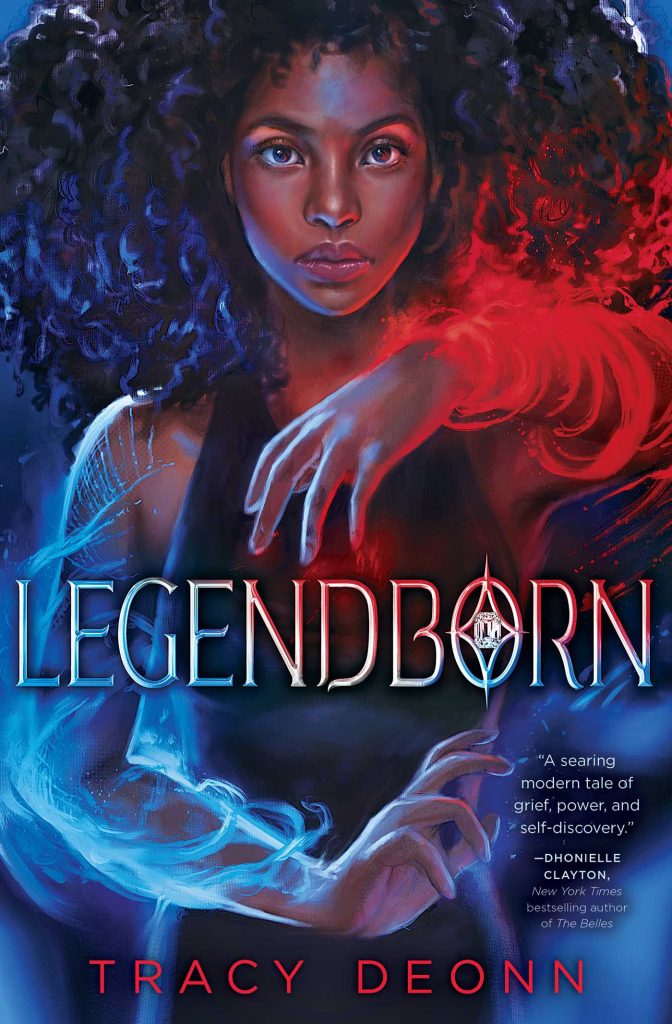 Review of: Legendborn by Tracy Deonn
Submitted by: Sarah Mahon – URI student, December 2022
King Arthur meets the legacy of slavery in modern day North Carolina.
Bree can't stop thinking about the fight she had with her mother before her deadly car crash. Her mom didn't want her to go to UNC – Chapel Hill's prestigious Early College program. Now that she's gone, Bree is desperate to escape her hometown and grieving father.
Her first night there, she witnesses something impossible – a demon feeding on negative human energy and teens fighting back with magic. She's convinced this attack is connected to her mother's death. She soon finds out that the King Arthur legend is real and hiding in plain sight within the university's exclusive – and very white – secret society. Bree infiltrates the secret society with the help of Nick, a former member, and discovers that she has her own magical gifts waiting to be unleashed. 
Legendborn kept me on the edge of my seat! Despite the trauma she's gone through, Bree is brave and determined. The plot is action packed with combat, friendship problems, romance, magic, and twists. The complex characters might make you root for someone you hated at the beginning and vice-versa.
Anyone who likes contemporary fantasy, magic, strong female protagonists, and books that explore the aftermath of slavery in the US will love Legendborn.
Verdict: 5/5 – can't recommend more!
Recommended for fans of:
City of Bones by Cassandra Clare
Once and Future by A.R. Capetta and Cori McCarthy
Cinderella is Dead by Kalynn Bayron
Additional Resources:
Author Tracy Deonn's website: https://www.tracydeonn.com/legendborn
Would YA Rather: King Arthur Edition with Tracy Deonn Interview: https://www.youtube.com/watch?v=LjjJhwySda0
Sarah Mahon's Bio: Sarah Mahon is an opera-singing, cat-loving, body positive future librarian who loves magical, mysterious, and spooky stories.
---
---