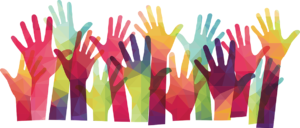 Virtual and Take Home Teen Community Service Opportunities
Are you a student in grades 6-12 who needs community service?
The following opportunities are now available and open to East Providence residents!
Community Art Project – Book Page Flowers:

The library is launching a community art project on Monday, April 19th and you can earn service hours by participating! We are asking residents to make flowers out of recycled book pages which will be incorporated into an installation at Weaver Library. Kits will be available to pick up at Weaver Library, Riverside Library, and Fuller Creative Learning Center beginning on 4/15. Each kit contains enough materials to make many flowers of different sizes. One service hour will be awarded for every 6 approved* flower submissions. You may create and submit up to 24 flowers in increments of 6 for a maximum of 4 hours earned for this project. You can find out more about the project here and be sure to watch the tutorial video for a demonstration on how to make the flowers!
* All flower submissions will be checked and approved by the Teen Librarian prior to service credit being awarded. Please be sure to return your flowers with the enclosed community service slip filled out completely and allow 1 week from the submission date to have your flowers approved. You can check on the status of your submission by emailing Lisa Perry, the Teen Librarian, at lperry@eplib.org.
Teen Community Service Bookmark Project:

Earn community service hours by making bookmarks for us to give out at the library!
Bookmark making kits will be available to pick up at all 3 East Providence Public Library locations from Saturday, April 17th- Friday, May 7th. Bookmarks need to be returned by Monday, May 10th for community service credit. These kits will be available on a first come, first serve basis.
For every 3 bookmarks that you make, you can earn 1 hour of service up to a maximum of 9 bookmarks for 3 service hours total. Forms must be completed and all submissions approved before service hours will be given.Please allow 1 week from the submission date to have your bookmarks approved.
Note: each kit contains 3 bookmarks for you to decorate. If you would like to make more, please ask for additional bookmarks when you pick up your kit.
Book Reviews and Book Art:

Read a book from our Young Adult collection (Juvenile chapter books are also acceptable for students in grades 6-8) and write a review to help other teens find a great book to read! Reviews must be a minimum of 150 words. You may also design a piece of art inspired by the book (poster, alternative book cover, short video, etc.). You will earn three hours of service for each approved submission (limit two per student, per school year). You can drop off book art or reviews at Weaver Library or Riverside Library with this form. Submit your finished digital book art or review along with the form to Lisa Perry, Teen Librarian, at lperry@eplib.org.  Forms must be completed and all submissions approved before service hours will be given.
Young Adult Books
Graphic Novels and Manga
LOOKING FOR A TUTOR?

Use your library card to access online help with homework, studying for an exam, or understanding today's lesson.  Math, Science, Social Studies, and English – all levels including AP.
Tutor.com tutors are available through our website (Kids page & E-Library) every day from 2:00-10:00.