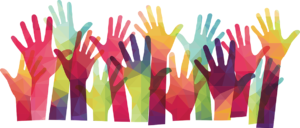 Take Home & In Person Teen Community Service Opportunities
Are you a student in grades 6-12 who needs community service?
The following opportunities are now available and open to East Providence residents!
2021 Mural Painting Service Program:
NEW! Earn community service hours by working with RI artist Rebecca Killian of Mermaid Masterpieces to design and paint a mural that will be displayed at Weaver Library! This program will be held on Wednesday, August 18th at Weaver Library from 1pm-5pm and is open to kids and teens entering grades 8-12. Registration is required by filling out the form here or by calling 401-434-2453.
2021 Summer Service Project for RISPCA:
NEW! Join us this summer as we make a variety of items that will be donated to the Rhode Island Society for the Prevention of Cruelty to Animals. Create toys, blankets, and more for the shelter animals in their care and earn community service hours! This program is open to East Providence residents entering grades 6-12 in the fall. This is a drop in program, and while you do not need to register for any of these events, please plan to stay for the full session for those dates that you attend. If you have any questions, contact Lisa Perry, Teen & Reference Services Librarian, at lperry@eplib.org or by calling 401-434-2453. All available dates, times, and locations for this project can be found here on our calendar of events.
Book Reviews and Book Art:

Read a book from our Young Adult collection (Juvenile chapter books are also acceptable for students in grades 6-8) and write a review to help other teens find a great book to read! Reviews must be a minimum of 150 words. You may also design a piece of art inspired by the book (poster, alternative book cover, short video, etc.). You will earn three hours of service for each approved submission (limit two per student, per school year). You can drop off book art or reviews at Weaver Library or Riverside Library with this form. Submit your finished digital book art or review along with the form to Lisa Perry, Teen Librarian, at lperry@eplib.org.  Forms must be completed and all submissions approved before service hours will be given.
East Providence High School & Middle Schools Summer Reading Assignments
MARTIN & RIVERSIDE MIDDLE SCHOOLS
Young Adult Books
Graphic Novels and Manga
Teen eBooks
LOOKING FOR A TUTOR?
Use your library card to access online help with homework, studying for an exam, or understanding today's lesson.  Math, Science, Social Studies, and English – all levels including AP.
Tutor.com tutors are available through our website (Kids page & E-Library) every day from 2:00-10:00.