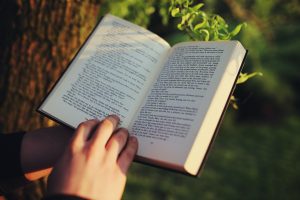 photo credit: kaboompics.com

The books listed below are the summer reading choices for East Providence students entering grades 6-12.
Check the catalog to see if we have a copy available at Weaver Library or Riverside Library. There are also copies of these titles in the ezone if you would prefer an ebook or audio book that you can download to your device.
Grades 6-8   
Focused by Alyson Gerber
Friendroid by M.M. Vaughan
Ice Wolves by Amie Kaufman
The Next Great Paulie Fink by Ali Benjamin
New Kid by Jerry Craft
Sal and Gabi Break the Universe by Carlos Alberto Hernandez
(Find your school assignment choices here.)
Grades 9-12
The Ballad of Songbirds and Snakes by Suzanne Collins
Boots on the Ground by Elizabeth Partridge
Norse Mythology by Neil Gaiman
The Poet X by Elizabeth Acevedo
Romiette and Julio by Sharon Draper
(Find your school assignment choices here )