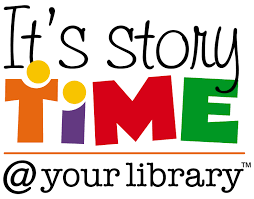 Drop-in Winter/Spring Storytimes
January 22 – May 7

Born to Read Storytime  Wednesdays, 9:30, babies & toddlers – 36 months @ Riverside Library
Family Storytime  Thursdays, 6:30, families with children ages 2-6 @ Weaver Library
Born to Read Storytime  Thursdays, 9:30, babies & toddlers – 24 months @ Weaver Library
Toddler/Preschool Storytime  Thursdays, 10:30-11:00, ages 2-4 @ Weaver Library
Miss Pam, Miss Harriet and Miss Sharon provide fun and active storytimes that combine stories, songs, music, dancing, and a simple craft, toys or activity.  Older and younger siblings are welcome to participate in our age-specific storytimes.
How to have the best storytime experience:
Join in!
While the librarian leads storytime, your child is actually learning from you.  Be an active participant – sing along with the librarian, get up and dance alongside your child, point out pictures in a book.
Storytime Etiquette
Please switch your cell phone to vibrate and put it away.  Wait until the end of the program to chat with other adults and serve snacks to children.  All children (and sometimes adults too!) have a "toddler moment."  Please quiet unhappy children outside the storytime room and bring them back when they are ready.
Pick out books to bring home!
Ask us for book recommendations that are appropriate for your child.  Research shows that reading aloud is the single most important thing you can do to help a child prepare for reading and learning.