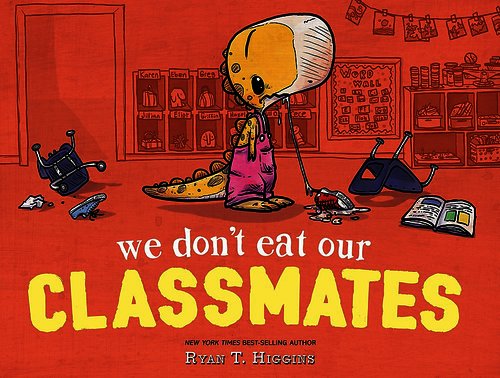 View Calendar
September 20, 2022 3:45 pm - 5:00 pm
The StoryWalk® Project is a way for families to get outside and be active while engaging with literacy. Follow the StoryWalk® posts around the Weaver Library lawn to get moving and get reading!
This month: 'We Don't Eat Our Friends' by Ryan T. Higgins.
Join us for our kickoff party on Wednesday September 21 at 3:45pm. We'll have Dinosaur snacks, music and a special visit from a T-Rex!
Related upcoming events
September 26, 2022 10:30 am - September 26, 2022 11:15 am

Drop by Fuller Monday mornings for themed learning activities. Children can explore a variety of centers such as: sensory exploration, numbers, letters, fine motor, pretend play and more. No registration required. 

September 26, 2022 3:30 pm - September 26, 2022 4:30 pm

Each child (must be ages 7+ to attend) will be given a 10" silk screen round where they will paint their own design guided by Kathleen Marshall! This is a series that requires students to be in class both Monday 9/19 AND Monday 9/26.

 Day 1 (9/19): draw design, add resist, let dry

Day2 (9/26): paint with watercolors, take home and enjoy

September 26, 2022 6:30 pm - September 26, 2022 7:00 pm

Come join Ms. Steph every Monday for songs, rhymes and stories! For ages 2-6. Special Guest reader, 'Beauty' the Bookish Princess on 9/26!