Raise a Great Reader!
Did you know that children who are read to at an early age are more successful in school?  Reading aloud to infants and children encourages social, emotional, and cognitive development.  And children who are regularly read to have bigger vocabularies when they enter school.
East Providence Public Library challenges you to share 1,000 books with your child before starting kindergarten. Reading 1,000 books is easier than you think!
3 books a day for one year = 1,095 books OR 1 book a day for three years = 1,095 books.
And you can read the same book multiple times.  In fact, young children love to hear their favorite books over and over again.
How to participate in this challenge:
1.  REGISTER:  Sign up for a Beanstack account and register for the 1,000 Books Before Kindergarten reading challenge.
2.  TRACK YOUR READING:  Each time you share a book, track the title in your online log.
3.  YOUR PROGRESS:  Each time you reach 100 books, you will automatically receive a progress badge. Stop by the library to also receive a free book and progress sticker. The more you read, the more badges, books and stickers you will receive!
4.  KEEP READING!  When you reach 1,000 books, you'll receive a Kindergarten School Supply Kit and the option to have your child's picture posted on our social media with an "I read 1,000 books before Kindergarten" sign.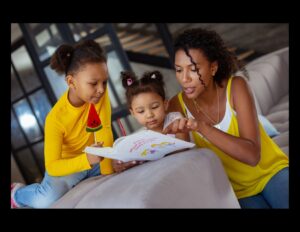 Ways to share a book:
Read together.

Snuggle up
Use different voices
Point out the pictures
Always keep a book near you (in your car, diaper bag etc.).
Talk about what's going on in the book.  Ask your toddler questions about the pictures and the story.

Read the same favorite books over and over.