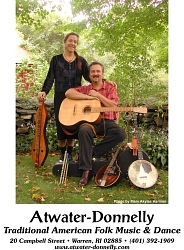 Monday April 24th, 7pm at Weaver Library
Atwater & Donnelly's music celebrates American heritage and heart and they are delighted to be part of the Historical Society's programming celebrating the Blackstone Valley Heritage Corridor!
Through song and dance, enjoy selections from Aubrey and Elwood's repertoire of seafaring songs, rural, songs, a Native American morning song, songs of work and more, all with thought-provoking commentary. Elwood and Aubrey blend harmonies and play an array of instruments including guitar, dulcimer, tin whistle, harmonica, banjo, limberjacks, and other surprises including a thrilling interpretation of freestyle Appalachian clog dancing.  This concert is great fun for the whole family!